About Us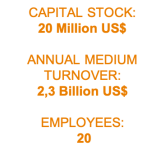 Sonatrach Petroleum Corporation was created in 1989, in accordance with the International Business Companies Ordinance of 1984, and registered in the British Virgin Islands (SPC BVI) and has been continuously growing.
SPC BVI arranges the purchase and sale of Liquids and Liquefied Petroleum Gas (LPG) products and chartering. These operations are carried out by SPC BVI through its two branches based in Algiers and London.
Sonatrach Petroleum Corporation, London office, is registered in the Companies House and all required documents such accounts, employees are published in Companies House's Website.
SPC BVI bases its work on strong work values and policies and over the years of successful activities, it has established a reliable reputation in the Oil and Gas market.
SPC BVI is the owner of the following companies (five LPG Vessels and one VLCC): Sonatrach Gas Carrier Corporation (SGCC/Reggane), Sonatrach Petroleum Overseas Transportation Corporation (SPOTC/Djanet), Alrar Transportation Corporation (ALTC/Alrar), Rhourd Enouss Transportation Corporation (RNTC/Rhourd Enouss), Hassi Messaoud Transportation Corporation (HMTC/Hassi Messaoud II) and New Ocean Shipping Venture Ltd (NOSVL/Mesdar).
SPC BVI is a wholly owned subsidiary of Sonatrach International Holding Corporation (SIHC) which is itself 100% owned by Sonatrach S.P.A.
Sonatrach S.P.A. is the largest oil and gas company in Algeria and in Africa. The company operates in exploration, production, pipeline transportation, transformation and marketing of hydrocarbons and by-products.
Sonatrach Group is also involved through various holdings, national and international partnerships in distribution and refining of those products.
Sonatrach Petroleum Corporation BVI is a separate legal entity from the other members of the Sonatrach Group and has its own Board of Directors, and its own administration rules and procedures.